PORTFOLIO
Empire Staple Company
Empire Staple Company, one of Colorado's oldest and largest specialty distributors, sells systems and supplies to nail, staple, strap, tape and mark. The company has locations across Colorado in Denver, Parker, Colorado Springs, Fort Collins, Grand Junction and Frederick, as well as in Kaysville, Utah.
McBroom Company provided tenant representation brokerage and development management services for Empire Staple Company, successfully representing it in the sale of its former headquarters in the Central Platte Valley to Trammell Crow, and in the build-to-suit of the company's 62,000-square-foot headquarters in Crossroads Commerce Park under an off-market execution with a 1031 exchange solution. A key to this site was developing it for flexibility, so it could be adapted for industrial or commercial applications as needed.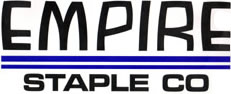 Would you like to learn more about brokerage and asset management services?